With the clocks going back it is clear that winter is not far off. Longer nights and colder mornings mean that the key tasks for autumn lawn renovation and maintenance should have already been done, and we are now into the season of damage limitation.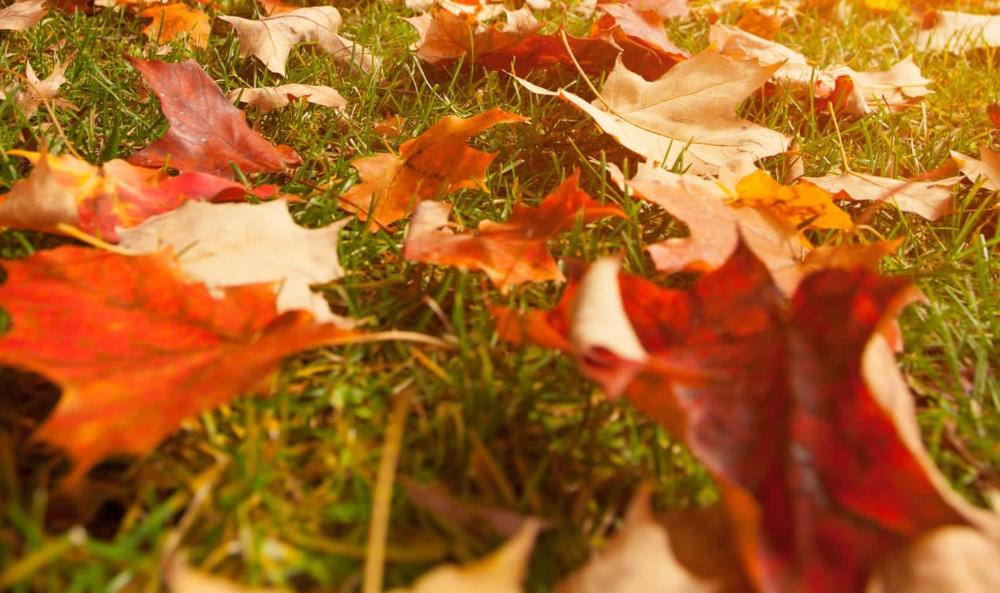 Leaf Clearing
As we get further into autumn, it is important to keep your lawn clear of leaves. A lot has been written about the benefits of leaf fall as a natural fertiliser and, though this is true for your soil, it is not always so beneficial for your lawn. A covering of leaves can lead to disease, increases in moss and the possibility of the grass dying off in patches if not managed efficiently. It is a good idea to regularly clear the lawn area from the majority of leaf fall using a good quality rake like our Chelwood rakes, EGO leaf blower or, if the leaves are dry, using a rotary mower with a grass box such as our EGO mowers. These can then be used to make a fantastic compost by composting them separately before adding them back into the soil.
Mowing
You should now need to mow less and at a higher height as we go into the winter. There is no harm is continuing to mow throughout the winter if you are cutting little and often (such as with a robotic mower), though be careful not to cut whilst the grass is too damp as this may lead to damage to your mower. As well as potentially clogging your mower, walking on, and mowing lawns when wet can lead to worse issues with the lawn such as soil compaction, drainage issues, and some lawn diseases (such as fungus) can be spread by walking on wet grass.
Now would be a good time to get your lawn mower cleaned and serviced ready for the spring.
Fertiliser
It is a good time to fertilise your lawn in preparation for the colder weather by using a good quality winter fertiliser such as our Stripy Green Fertiliser. This fertiliser has micronutrients that promote root growth to strengthen the lawn under the soil and protect the grass from the coming harsher winter conditions. If you are concerned about a possible moss problem, then use a fertiliser with a high iron content to help blacken the moss and harden the lawn for winter such as our Green and Black Fertiliser. With either option, make sure you apply before the first frost.
Take advantage of this month's offer with 10% off fertiliser online with the code NOVFERT21 at checkout.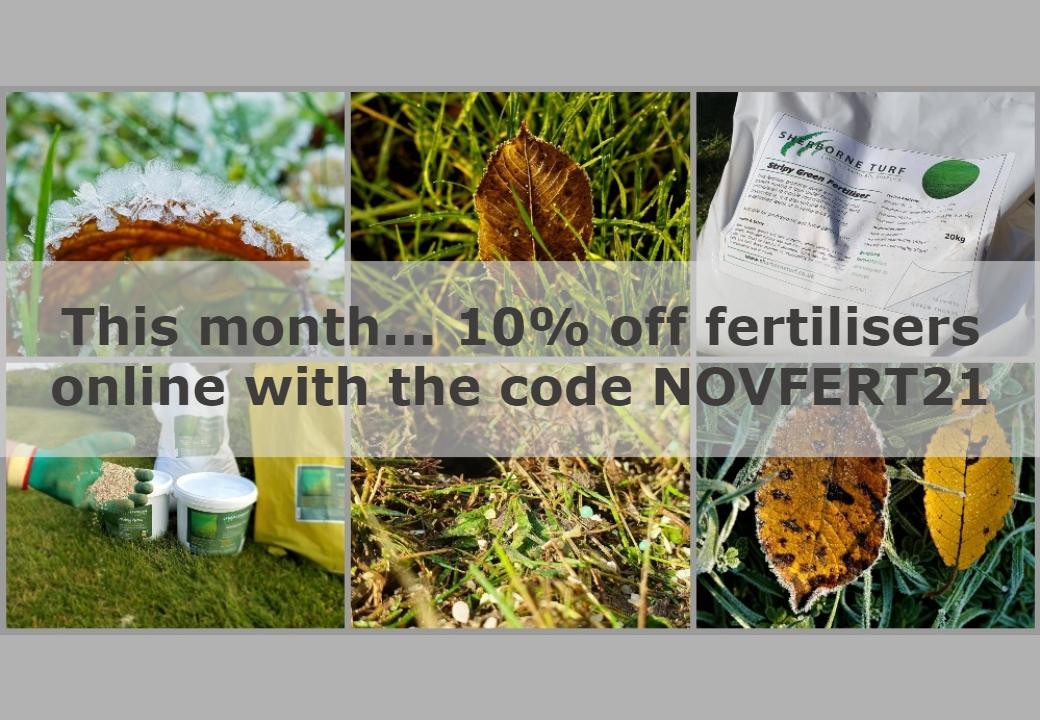 (Leaf images thanks to Mylene2401 and Anrita1705 from Pixabay)
Moss
It may be too late to do anything extreme to treat moss as, with the cooler weather, your lawn will struggle to recover. Instead take a more careful approach with a high iron fertiliser and a gentle rake. If you are concerned you may have a bigger problem to contend with, a more environmentally, child and pet-friendly solution is to apply MossOff to the problem areas.
Renovations and Repairs
Though earlier in autumn is the best time to replace or repair your lawn, it is by no means impossible to lay turf into the winter. With cooler weather and plenty of water available, it is perfectly acceptable to lay a new lawn, though do remember that the conditions will mean it will take much longer for the roots to establish and for the turf to be secure. Other renovation methods such as scarifying, aerating, rolling or applying top dressing should be avoided as the lawn will not be able to recover.
For more advice, please contact us on 01935 850388, or follow us on Facebook and Instagram.