Delivery zones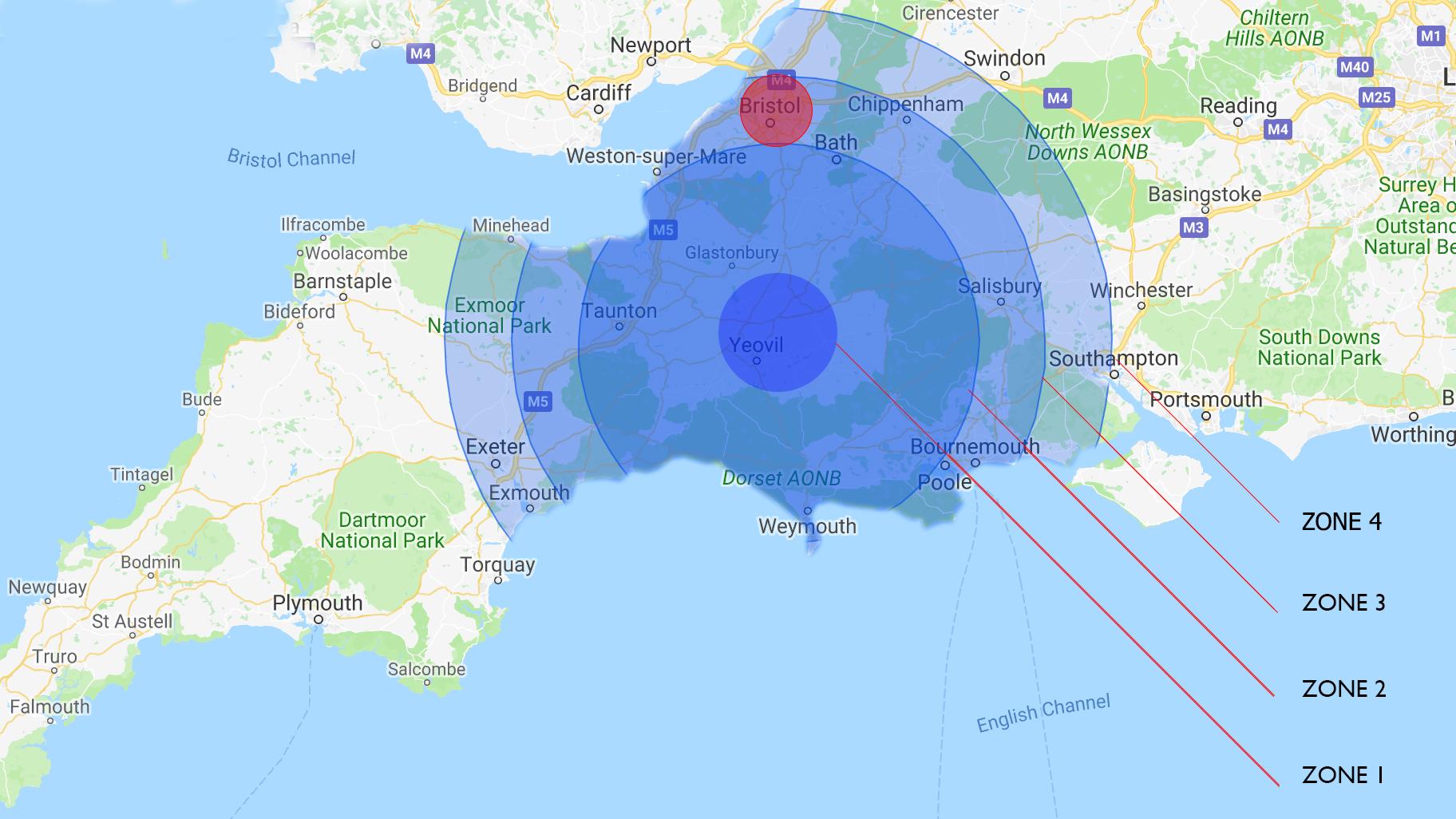 We have a number of delivery zones for Turf and bulk products delivered in bags. The prices below are subject to VAT.
Zone 1 delivery will cost £10.42 per address drop.
Zone 2 delivery will cost £29.17 per address drop.
Zone 3 delivery will cost £33.33 per address drop
Zone 4 delivery will cost £37.50 per address drop
45.83 for central Bristol postcodes. As depicted by the red zone on the map.
Bulk pallet orders will be priced per pallet drop. Please contact us for a quote. The pallets will be charged £10.00 + Vat per pallet. This is refundable on return of the pallets to us.
The rest of the country will be delivered by a national pallet service.
We will contact you to schedule delivery. Someone will have to be on hand to meet the driver and sign for the delivery. The driver will lower the package to the ground and place it Kerbside at the end of your driveway. Wherever possible our drivers will do everything they can to deliver to your driveway. However if this is not possible, turf and top soils are large, heavy items, So arrange to have additional people help you. If your location is not accessible by HGV please notify us so we can look at alternative delivery vehicles, we also require notification of steep hills and cambers at the drop point. If we are unable to use the fork lift we may charge an aborted delivery charge.
Delivery of Garden Machinery
All garden machinery will be delivered direct. More often than not depending on stock levels this will be next day providing the payment and order is processed before 2.30pm on a working week day. All garden machines will require a small amount of assembly, fluids (oil) prior to use. Should the specification and instructions for assembly not be followed this will void guaranties and warranties.
The delivery costs for machines excluding Countax, Eliet and AS Motors will be £3.95
We can offer an assembly and PDI service and dispatch the machine with one of our pallet carriers. If you would like this addition please call 01935 850388.